Corporate Vegan & Vegetarian Catering
Catering Designed with Vegans in Mind
Imagine a catering company that specializes in vegan and vegetarian cuisine. Not as an afterthought or additional offering but as the main focus of their talents. Suddenly the idea of providing guests with a delicious meal that honors their vegetarian preferences is more than wishful thinking.
From record-breaking gym membership to natural food purchases, all indicators point to millenials as a group sincerely dedicated to healthy living, especially where diet is concerned. In fact, it's estimated that 7.3 million people follow a vegetarian-based diet. This could arguably be history's most health-conscious generation and the evidence is overwhelming.
Vegan Catering NYC was created to celebrate the vegan and vegetarian lifestyle with exquisite cuisine. And our Corporate Vegan Catering service brings our creations to your workplace.
A great way to say thank you!
Far too many vegetarians and vegans in the business world are left picking at salads at corporate gatherings. It's no surprise that vegetarian diets haven't been seriously considered when planning corporate events…but that trend is changing.
With the multitudes of working-class people who have chosen vegetarian diets, employers, vendors, suppliers and most every business entity are changing the way they think when it comes to planning a corporate lunch, event, business meeting or holiday party. Today's employees expect and deserve to have their dietary choices honored. Corporate Vegan Catering makes it easy for you to do so in the most delicious way possible.
Perfection in Preparation & Presentation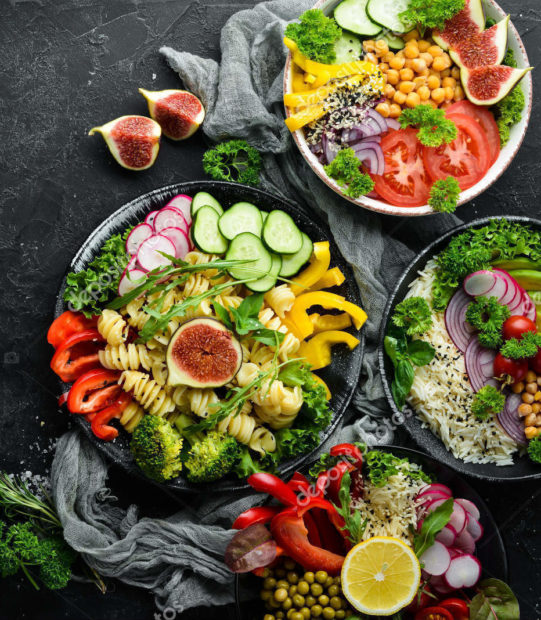 Great food should look as good as it tastes. Vegan Catering NYC takes pride in the beauty of our vegetarian and vegan dishes. Our chefs understand the intimate relationship between sight and taste. They create an artistic presentation that satisfies the eyes as well as the appetite. Our dishes represent a palate of color that celebrates the taste and beauty of natures' bounty.
The influence of French cuisine enables us to deliver fabulous favorites with a savory vegetarian flare so you enjoy all the benefits of providing a vegan/vegetarian meal without compromising the delicious tastes you enjoy.
Corporate Catering for EVERY Occasion
From an intimate office luncheon to a grand holiday celebration, Vegan Catering NYC's team handles your catering needs from start to finish. Breakfast, lunch, or dinner, we offer an almost endless number of menu options from which to choose.
Our versatility allows you to be especially sensitive to the particular preferences of your guests and employees. Our abilities ensure that whatever the occasion, you'll be known for providing a vegan or vegetarian menu that exemplifies your thoughtfulness for EVERY member of your event.